PRESIDENT BARACK OBAMA RE-ELECTION BIBLE CODES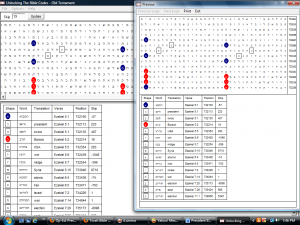 The bible codes appear to indicate that President Barack Hussein Obama (ברק אובמה) may be reelected (בחירתו מחדש) for another term during the 2012 presidential elections. A review of bible codes found by this author and  Rabbi Glazerson appears to confirm Obama's reelection for another term.
Analysis of equidistant letter spacing (ELS) bible codes found in the Book of Ezekiel by this author reveal the Hebrew words for Barack Obama, President, twice, election, win and more. The ELS codes also show the Hebrew words for war, atomic, Israel, Syria, Iran, and USA associated with Obama's name. The ELS codes were as large as negative 1046 and as small as positive one. This is usually indicative of a statistically significant code.  Additional study of the ELS codes indicate that Israel, Syria, and Iran could be at war during and after Obama's presidential campaign. The ELS codes could be a warning of limited usage of tactical nuclear weapons in the Mideast region.
Obama will experience another challenging and difficult campaign for the presidency. According to Biography Online, Obama is the 44th and current U.S. President. He is the first African American to hold that office in U.S. history. From 2005 to 2008, Obama served as a U.S. Senator from Illinois prior to resigning after his victory in the presidential election, according to press profiles.
During the 2012 general election, Obama will battle Republican Mitt Romney for the American presidency. According to BBC News, Romney is a successful American politician and businessman. From 2003 to 2007, Romney was Massachusetts' governor before he became the candidate for the 2008 and 2012 Republican Party presidential nomination. Political observers and analysts place him among the leading GOP front-runners in the 2012 political race for the presidency, according to the Wall Street Journal. Both Obama and Romney will experience the most heated, divisive, ugliest, and dirtiest political campaign in American political history because of ethnic racism, xenophobia, religious bigot
ry, class warfare, and the U.S. economy.
Romney will not be president because the Republican Party's leadership is currently focused on the 2016 elections, and many Republican voters reject Romney's Mormon religion, and a few conservative Republicans believe that Romney is not conservative enough. Additionally, while Obama will be damaged by Romney's political war machine, he will win the presidency because of strong support from liberals, independents, and African American voters.