BIBLE CODES SHOW POSSIBLE LOCATION OF NOAH'S ARK
Bible codes show possible location of Noah's Ark in the Mt. Ararat region. The Noah Ark codes were found in the Sacred and Holy Books of 2nd Samuel and 1st Kings. The Hebrew words for Noah, Ark, Mount, Ararat, Ahora, Gorge, North, West, Turkey, Armenia, and Iran were found in close proximity. The Bible codes appear to suggest that Noah's Ark is located somewhere within the northwest area of the Ahora Gorge region. According to Ark researchers, Noah's Ark has been broken into three pieces because of numerous earthquakes in the area. A few creation scientists have acquired photographic evidence of Noah's Ark. Some of these ark researchers are Dr. Carl Baugh and Dr. Don Shockey.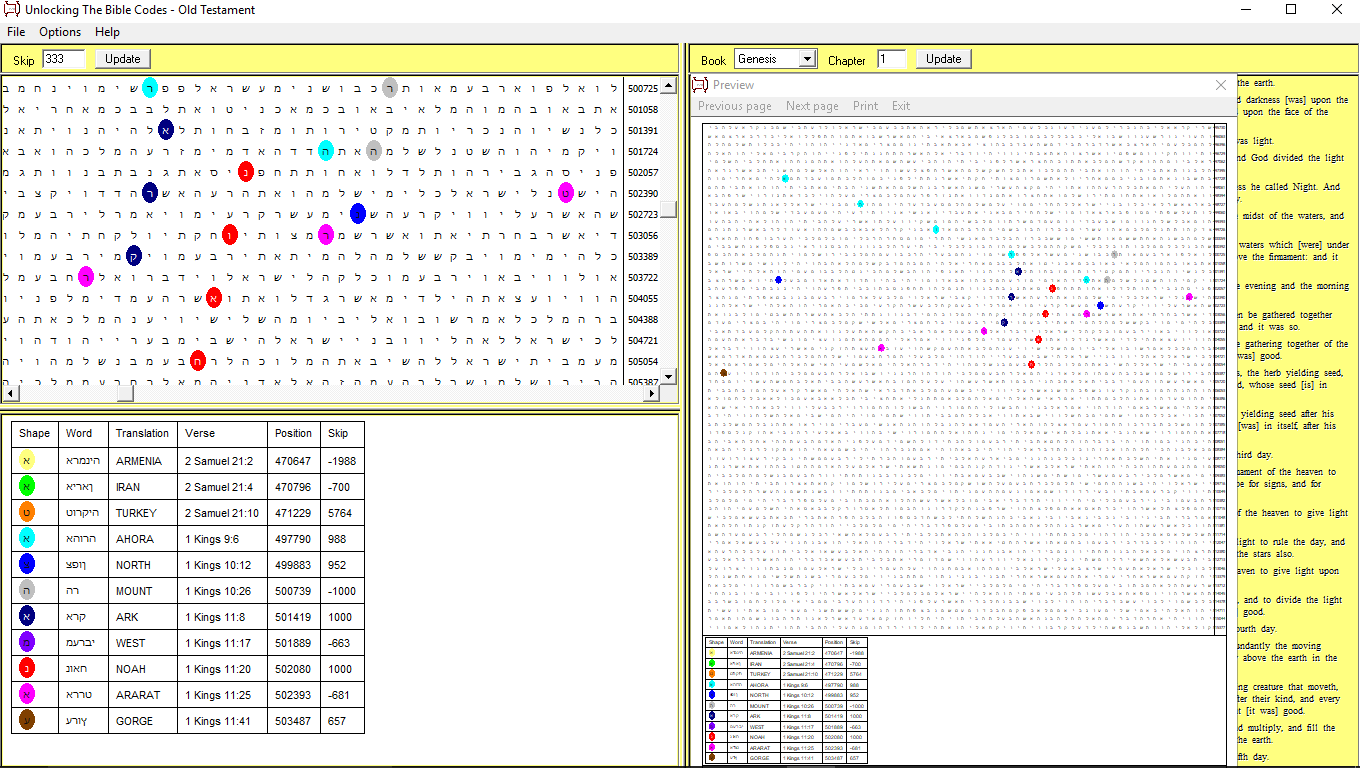 Noah's Ark was a building of gopher-wood, and covered with pitch, 300 cubits long, 50 cubits broad, and 30 cubits high (Gen 6:14-16); a rectangle floating vessel of three stories, with a door in the side and a window in the roof. It was 100 years in building (Gen 5:32; Gen 7:6). It was intended to preserve certain persons and animals from the deluge which God was about to bring over the earth. It contained eight persons (Gen 7:13; 2Pe 2:5), and of all "clean" animals seven pairs, and of "unclean" one pair, and of birds seven pairs of each sort (Gen 7:2, 3). It was in the form of a rectangle square, with flat bottom and sloping roof. Traditions of the Deluge, by which the race of man was swept from the earth, and of the ark of Noah have been found existing among all nations.
The Gospel references to the ark are in connection with Messiah Yeshua's teachings regarding the second coming. The expectancy of some at the second coming is likened to those who were destroyed by the flood. In the book of Hebrews, the preacher lists Noah as a man of faith who prepared an ark even though the danger was at that point unseen. The final New Testament Scriptural reference about the Noah's Ark, points to the evil of humanity and God's patient salvation (1 Pet. 3:20).
Extra-biblical sources about Noah's A
rk include: The Babylonian flood story, called the Gilgamesh epic, also tells of a large boat by which its hero survived the flood. There, however, the ark was not a symbol of the grace of the gods but of their folly and faulty planning. In the Sumerian and Babylonian traditions, we are given more details concerning the size and shape of the ark. These details may be of interest but are of far less significance than the message of the biblical ark itself as testimony to God's unmerited grace.