JUSTICE SONIA SOTOMAYOR BIBLE CODES
The Bible codes show that Supreme Court Justice Sonia Sotomayor will likely resign because of scandal and corruption. The Hebrew words for Justice, Sonia, Sotomayor, Supreme, Court, prison, jail, corrupt, scandal, and resign were all found in the Holy Scriptures. The equidistant letter sequencing (ELS) codes were found in the Sacred and Holy Books of Zachariah, Malachi, Ezra, and Nehemiah. However, these codes are probably accidental because the ELS skip ranges are very high. Nevertheless, if these codes are accurate, then they appear to support the words of former fighter and prophet, Mark Taylor. According to Prophet Taylor, three Supreme Court Justices will resign from the Supreme Court because of various scandals. This author believes that these scandals are probably related to their secret operations against President Donald Trump.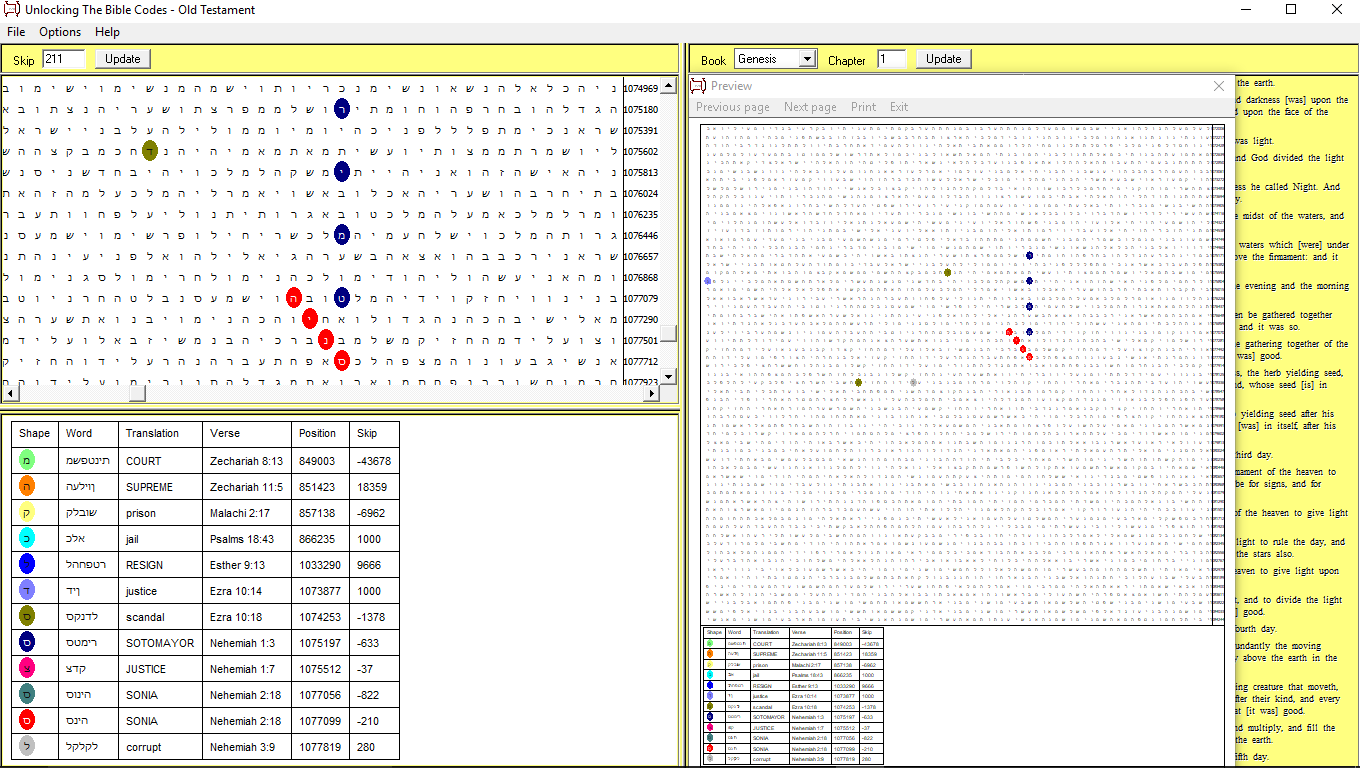 Sonia Maria Sotomayor became the associate justice of the Supreme Court of the United States in 2009. She was the first Hispanic and the third woman to serve on the Supreme Court. In May 2009 Pres. Barack Obama nominated Sotomayor to the Supreme Court in order to fill the vacancy left by departing Justice David Souter.
Sotomayor faced initial criticism for once stating that policy was made in the Court of Appeals and, in a different speech, that a Latina judge was better equipped to make judgments than a white man. Her diabetes also brought questions about her potential longevity on the court. Sotomayor's confirmation hearings before the Senate Judiciary Committee in July 2009 went smoothly, and the following month she was confirmed by the Senate. Sotomayor released a memoir, My Beloved World, in 2013.
ANALYSIS
If these ELS codes are correct, then this will be a very sad future for liberal extremists, secular humanists, atheists, pagans, and elements within the Latino community. This author believes that the Supreme Court should be filled with people reflecting the values and population of this great nation rather than a small group of liberal elitists. Bible believing and God fearing men and women should be appointed to govern the U.S. Supreme Court. It appears that God is removing the corruption out of the U.S. government. We should all pray for Justice Sonia Sotomayor and hope that these Bible codes are accidental and false ELS codes.