BIBLE CODES SHOW LIKELY FBI SECRET SOCIETY PERSONNEL
The Bible codes reveal FBI secret society personnel. The equidistant letter sequencing (ELS) codes were all found in the Sacred and Holy Books of Leviticus, Numbers, and Deuteronomy. The Hebrew words for McCabe, Lynch, Comey, Rosenstein, Mueller, Strzok, and Page were all found in proximity with the Hebrew words for FBI, FISA, Memo, criminal, and cabal.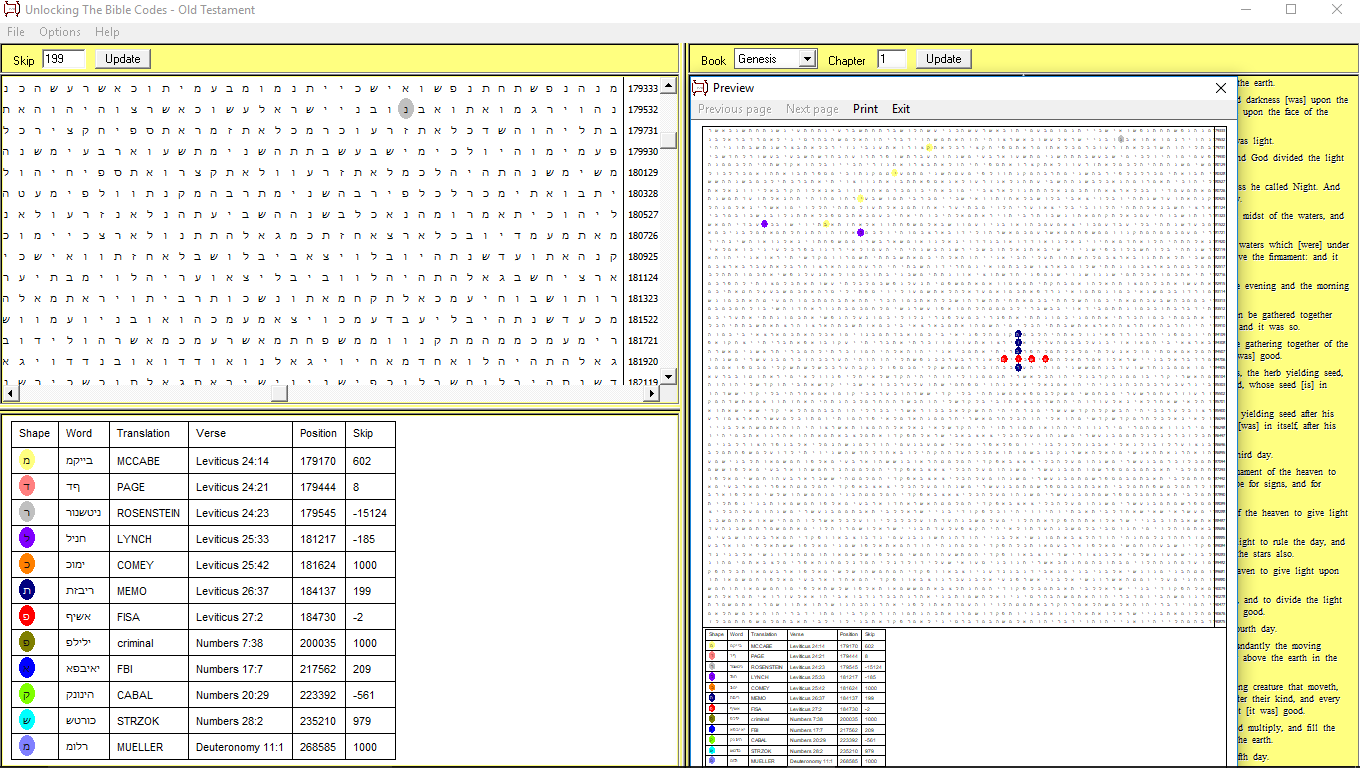 The Federal Bureau of Investigation (FBI), formerly the Bureau of Investigation (BOI), is the domestic intelligence and security service of the United States, and its principal federal law enforcement agency. Operating under the jurisdiction of the U.S. Department of Justice, the FBI is also a member of the U.S. Intelligence Community and reports to both the Attorney General and the Director of National Intelligence. A leading U.S. counter-terrorism, counterintelligence, and criminal investigative organization, the FBI has jurisdiction over violations of more than 200 categories of federal crimes.
From May 9, 2017 to August 2, 2017, McCabe was the Acting Director of the FBI after James Comey was dismissed by President Donald Trump. U.S. Attorney General Jeff Sessions stated that McCabe was one of several candidates under consideration for Director. Conservative commentators are convinced he decorated with corruption because he appears to be part of the secret society attempting to destroy Trump's presidency.
Loretta Elizabeth Lynch is an American attorney who served as the 83rd Attorney General of the United States, appointed by President Barack Obama in 2015 to succeed Eric Holder. Ms. Lynch describe the Clinton investigation as only a "matter," which many conservatives believe was her attempt to cover the crimes of Ms. Clinton.
James Brien Comey Jr. is an American lawyer who served as the seventh Director of the Federal Bureau of Investigation from September 4, 2013 until his dismissal on May 9, 2017. Conservative commentators believe that Comey has been guilty of protecting Ms. Clinton since the 19
90s and he was responsible for mishandling the FBI investigation related to Ms. Clinton's e-mail scandal during the 2016 campaign.
Peter P. Strzok II is a United States Federal Bureau of Investigation agent. Strzok was the Chief of the Counterespionage Section during the FBI's investigation into Hillary Clinton's use of a personal email server. Conservative commentators are convinced that he and his lover Ms. Lisa Page were attempting to destroy the presidency of Mr. Trump.
Robert Swan Mueller III is an American lawyer and civil servant who was the sixth Director of the Federal Bureau of Investigation from 2001 to 2013. Conservative investigators believe that he is leading a bogus and corrupt Russia collusion investigation against President Donald John Trump because Mueller and the liberal establish seeks to destroy Trump's presidency.